BatchGeo Pro:
Map Faster
Get the most from Google Maps – with faster geocoding, password protection, 10 users, PDF support, and more.
$99.00 per month
Signing up is easy and super fast
No-risk 30-day refund guarantee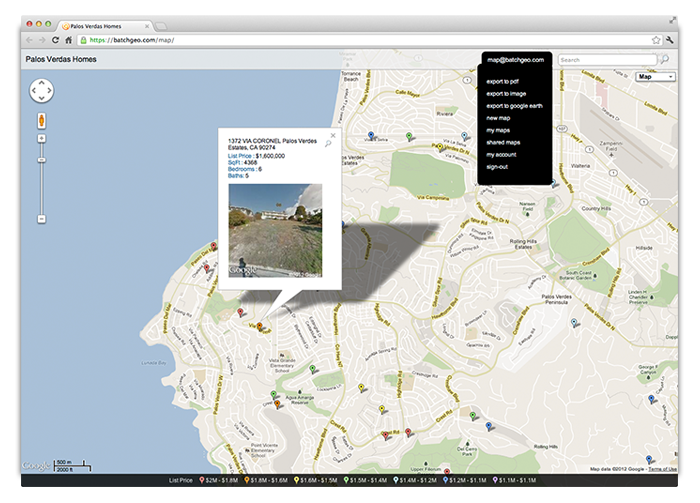 BatchGeo Pro Features:
10 Users Included
Our Pro plan comes with 10 users with full access to create maps (and unlimited read-only access.) For even more map creating accounts, contact enterprise sales.
10x Faster Geocoding
Make new maps ten times faster: a large map containing 500 markers will take only one minute, versus 10 minutes for the free version.
Enhanced Security
Password protect your maps and enforce encrypted access (SSL). Your map data is kept secure and only accessible to users you specify.
Export to PDF
Enable easier portability, sharing and printing of your maps by outputting to Adobe's Portable Data Format.
Street View Integration
Preview property frontage photos using Google Maps Street View, clicking on a marker gives you an instant view.
Hi-Resolution & Printing
Output maps to high resolution image files for accurate printing of aerial photography, street, and terrain maps.
More Data & Groups
Support for mapping up to 20,000 data points at a time, and 3 additional color groups for your data.
No Ads
We will not display ads on your map page, or ever share your information with advertisers.
30 Day No Risk Guarantee
Sign up and use our service for 30 days. If at any time you are unsatisfied, feel free to cancel your subscription and you receive a full refund no questions asked.
BatchGeo is used by over 25,000 people and businesses daily - with 6,654,697 maps created.






---
Go pro for only $99 per month
Try it for 30 days, no questions asked refund guarantee